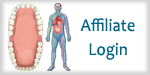 Becoming an affiliate is an easy way to partner with American Bio-Compatible Health Systems, Inc. (proud creators of the Interactive Meridian Tooth Chart® – IMTC) and earn commission for anyone you refer that becomes a customer – and an affiliate! And as an affiliate partner, we'll provide you with banners and logos that you can use to advertise the Interactive Meridian Tooth Chart® software on your website, blog, email list, or to your social media community.
IMTC Affiliate Program Highlights:
Referral Period: 90-day Cookie Duration
Performance based incentives
20% starting commission – and goes up from there!
Sign up another affiliate and earn from their sales and subscription renewals!
How do you start?
It's simple: Join our affiliate program, add approved affiliate banners and links to your website or blog and start earning 20% commission on sales you refer! Our most successful affiliate partners write product reviews and other unique content to help promote and advertise the Interactive Meridian Tooth Chart® online.  They also are often involved in networks of holistic health professionals.
How do we track affiliate sales?
As an affiliate, you will have access to your own dashboard in our affiliate to handle the tracking, reporting, and affiliate payments. You can login to your IMTC affiliate account at any time to check your stats, get affiliate links, grab banners, and other resources to help you get started.
---
Affiliate Program FAQ:
What is the IMTC Affiliate Program?
The IMTC Affiliate Program is a way for you to earn money by advertising the Interactive Meridian Tooth Chart® on your website, blog, newsletter, or to your social network community. For every person you refer that completes a purchase, you earn commission on the transaction.
Where do I join the IMTC Affiliate Program?
You can join the IMTC affiliate program here. We personally review all applications and once your application is approved, we will send you an email to gain access to banners and your affiliate links so you can easily add them to your website.
What does it cost and what do I need?
It costs absolutely nothing to become an affiliate partner and you can end your affiliate relationship at any time.
May I get a discounted Tooth Chart to use on my own website?
If you purchase an IMTC after you are approved for our affiliate program, you may use your own link to receive the commission on your sale.  Remember, the commission disbursement threshold is $50, so in order to receive your commission, you will need to sell another tooth chart to meet the disbursement threshold.
What do I need to get approved?
We review every affiliate application carefully to ensure you are in compliance with our program terms and conditions. While we cannot approve all affiliates for the program, we're looking for affiliate partners that have a website or blog or network that is relevant to IMTC products and software. We reserve the right to reject any website containing objectionable material, including explicit language or content, or support for violent or discriminatory groups. We will remove any approved affiliate found in violation of our terms & conditions or participating in activities that may reflect negatively on American Bio-Compatible Health Systems, Inc. products or product brands.
Can I use the Interactive Meridian Tooth Chart® name and logo on my site?
You can only use approved creative available through the affiliate program. You are not allowed to alter our logos or approved creative in any way. You'll find the approved banners and creative in the affiliate interface. These assets will be updated regularly and will include new promotions and other news.  We also accept banner design recommendations for consideration.
How much can I make?
The sky is the limit. Affiliates earn 20% commission on every referred sale that occurs on a click-through from your website, blog, email, newsletter, or social network community. Commission levels increase as you reach new performance tiers, up to 30%. How much you earn depends on how many of the visitors you refer complete a purchase.  Also, the Interactive Meridian Tooth Chart® is an annual subscription product, so you will earn 5-20% on all annual subscriptions renewed by your customer.
Will I earn commission on sales through other affiliates that I bring into the program?
Yes!  Tell your friends! When you an affiliate signs up for our program through your affiliate link, you will receive a portion of the sales generated from their affiliate efforts – including annual subscription renewals!
How do I know how much I've earned?
To make it easier for affiliates, you can login and check your sales performance and commissions earned at any time.
When and how do I get paid?
Affiliate commissions are paid through payment methods indicated in the affiliate interface. You have the option of payment method which includes: Paypal, ACH, Check, and International Electronic Funds Transfer. Commissions are paid monthly and if you do not reach the payment threshold, your commission earned will be carried over to subsequent months until the payment threshold is met.
What are my responsibilities as an affiliate partner and affiliate program member?
As a partner and member of the IMTC Affiliate Program, you represent an extension of the American Bio-Compatible Health Systems, Inc. brand. As such, your responsibilities are to:
Add your IMTC affiliate links to your website or blog within 15 days of being approved for the program
Give IMTC banners exposure and visibility on your website, blog, newsletter, or mentions to your social networking community
Ensure that your website content is appropriate, up-to-date and relevant to be associated with the Interactive Meridian Tooth Chart®
Use the approved banners and links provided to ensure accurate tracking so we can attribute your sales and pay you commissions earned.
Where can I find additional information on the Interactive Meridian Tooth Chart®?
More information about IMTC software can be found at www.MeridianToothChart.com
Who can I ask if I have additional questions?
If you have any questions, please don't hesitate to contact us through the affiliate interface. We'll be glad to answer all your questions and help you become a successful IMTC affiliate partner.